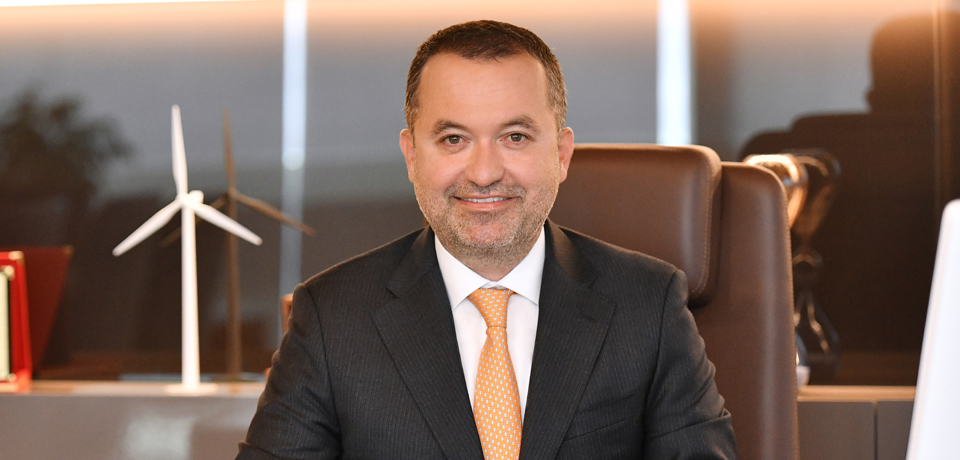 As Aydem Energy, this year also, shall continue its studies, where we take the renewable energy into our focus, through new investments. The Holding shall make a total investment of 3.8 billion TL across the group companies in 2021. In the next 5 years, the investment it shall realize only within the scope of distribution companies will be 9.6 billion TL.
As Aydem Energy, will invest 3.8 billion TL in infrastructure works, hybrid technologies in electricity generation and development of existing power plants this year.
Sharing his views on company investments and future targets, İdris Küpeli, the CEO of Aydem Energy, noting that 2020 was a tough year for the energy sector, has stated that the companies generating electricity from renewable sources were affected by this difficult period much less when compared to many other sectors.
Investment target for the future of Turkey in the year of 2021 is 3.8 billion TL
Stating that Aydem Energy's participation in the whole chain, including the generation, distribution and sales of electricity and having efficient power plants, presents a good picture for the future of the holding and the group companies, İdris Küpeli has said, "This year, we have determined our investment budget for our entire group as 3.8 billion TL. In this context, our hybrid investments and development projects in our power plants will be in our agenda. In the next 5 years, only with our distribution companies, we will make an investment of 9.6 billion TL for the infrastructure works we have planned in our operating regions, namely in İzmir, Manisa, Aydın, Denizli and Muğla provinces. Our aim is to ensure the sustainability of our services by continuing our investment projects without easing down".
"2021 shall be the starting point for our hybrid investments, we will exceed 2 thousand MW in installed power in 5 years"
Stating that Aydem Energy focuses on renewable energy, Küpeli has said, "We aim to complete our public offering process, which we have started with our renewable energy company, this year. This year, the outstanding agenda items of the energy sector will be hybrid investments, mini YEKA (Renewable Energy Resource Areas) tenders and the new YEKDEM (Renewable Energy Resources Support Mechanism) tariff. And we will start our hybrid investments this year. We aim to minimize the effect of the seasonal conditions with hybrid power plants where we can generate energy from SPP when rain is less and from HEPP when sun is low. This year, we plan to allocate 100 million $ for this. In the field of renewable energy, we shall double our installed capacity, which is 1,020 MW, with 25 power plants, and will exceed 2,000 MW capacity in 5 years."
Our investment in human value will continue in 2021
Indicating that they are planning to grow in the field of employment in parallel with their future plans, Küpeli has stated; "Whatever the conditions are, our priority is 'human'. During the pandemic period, we have not compromised this basic approach of ours. We have worked to protect our own human resources and to provide uninterrupted service to the consumers, to the public in our region. In order to achieve this, we have added 600 talents to our group last year and preserved all of our existing staff. In 2021, we will increase our human resources by 10 percent: we shall increase the employment we have provided to 11 thousand people to 12 thousand people."
About Aydem Energy
Turkey's first and pioneering integrated energy company Aydem Energy operates in the fields of electricity generation, distribution and retailing. Aydem Energy, which has put its signature under pioneering works in the industry such as accomplishing the first private hydroelectric power plant in Turkey, producing the first domestic solar cell and obtaining the first private electricity distribution and retail licenses, with its 27 plants spread over Turkey today and an installed capacity of 1.965 MW, annually generates 10.044 GWh of electrical energy.
The renewable energy generation company of Aydem Energy, which places renewable energy in its focus, is in the position of being the largest company in Turkey, whose portfolio completely consists of 100% renewable sources. In addition to the electricity generation activities, it provides service to 5 million customers in 2 regions and 5 provinces, namely in Aydın, Denizli, Muğla, İzmir and Manisa with its electricity retail companies Aydem Perakende and Gediz Perakende as well as. Electricity distribution companies ADM Elektrik Dağıtım and GDZ Elektrik Dağıtım, on the other hand, provide electricity distribution services in the same provinces. Aydem Energy has celebrated its 40th anniversary in the year of 2020.