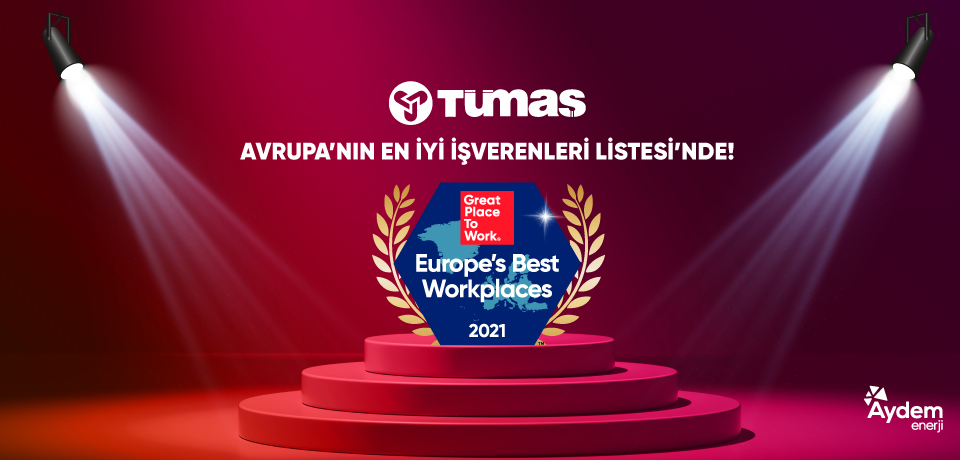 Aydem Energy continues to receive awards with the innovative employee experience projects it has implemented with its group companies. Tümaş Marble has managed to take its place also in the Best Employers list of Europe, following the success it has achieved in Turkey, in the program run by the Great Place to Work® Institute, which is accepted as a global standard in the field of workplace culture and employee satisfaction.
Tümaş, which has been certified with the "Great Place to Work" award by the Great Place to Work® Institute along with our 10 other group companies in 2021, then has managed to enter Turkey's Best Employers List together with our seven group companies, and now with the employee-oriented projects it has implemented and with the employee satisfaction it has achieved, is ranked as the 14th in the 50-500 employee category in Europe.
In the list, which has been prepared with the participation of more than 3 thousand companies and more than 1 million employees operating in 36 European countries, ten companies from Turkey have taken place, and Tümaş has been deemed worthy for this award with the success it has achieved in maintaining sustainable positive experiences at work for the employees, regardless of age or gender.
Burak Bağcı, the General Manager of Tümaş Marble, sharing their happiness in achieving successful results in the global ranking with the evaluation of the workplace culture by the employees, have said, "With the assessments made by our employees, who have embraced their company and adopted the culture of trust, first to be included in the Best Employers List of Turkey, and now to be placed in the Best Employers List of Europe is a great pleasure and honor for us. Our implementations, digitalization and continuous education-themed practices, which we have accomplished throughout the past year, in which we have put or employees on the focus, have brought us this success. We will continue to strengthen our new generation employer practices that have high adaptability, that prioritize transparency, and put the employee at the center more than ever."
The HR processes designed with an innovative perspective and implemented in all group companies, especially during the pandemic process, and the differences it has created in employee experience played an important role in Tümaş Marble's inclusion in the Best Employers List of Europe of the Great Place to Work® Institute. Our group company, while rapidly adopting to the remote working method with its available technical infrastructure and with the agile organization of its information technology teams, has also accelerated the digitalization processes and developed new applications.