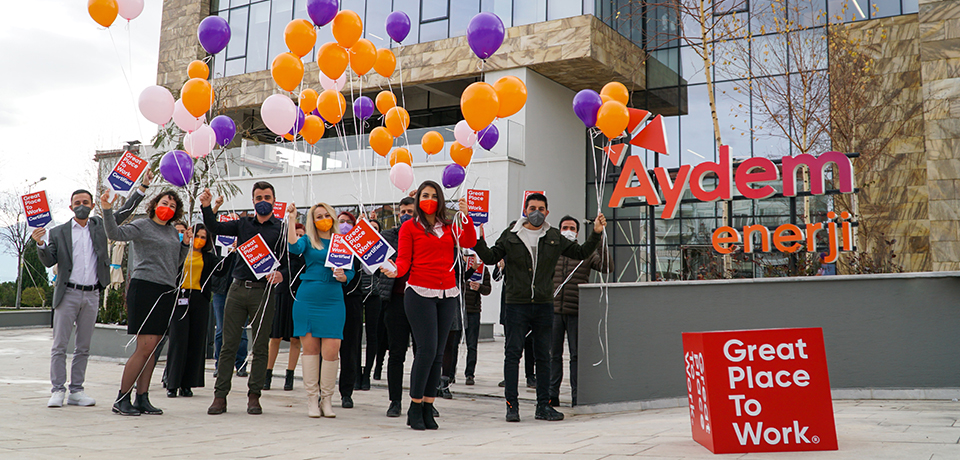 We continue to break new ground with the projects we have done under of employee branding. Last year, we became the first company in Turkey to receive the Great Place to Work® "Great Workplace" Certificate, with 11 group affiliates, in the program run by the Great Place to Work® Institute, which provides global service on workplace culture and employee satisfaction. This year, we broke our own record by qualifying for the Great Place to Work® Certificate with our 13 group affiliates.
As Aydem Energy; in line with the evaluation of the employees in our umbrella company, Aydem Holding, and in our distribution and retail companies, Aydem Renewables, GDZ Energy Investments, ÇATES, Elsan, Extranet, Entek İnşaat, Tümaş, Yatağan and Yeni Filo, we have received a "Great Workplace" certificate. We have achieved another important success in the field of workplace culture and employee satisfaction, becoming the only group in Turkey to receive the Great Place to Work® Certificate with our 13 companies.
"The work we have carried out throughout the year has been appreciated by our employees."

Our Aydem Energy Human Resources Group Director Fatih İslamoğlu, indicating that the employees' evaluation of his company as a "great workplace" environment in terms of fairness, team spirit, reliability, pride and respect is a very proud result of the work carried out; has stated that they are very pleased and honored to be certified together with our 13 group affiliates for the first time and at once, by blazing a trail in Turkey, with the independent evaluation of the Great Place to Work® Institute, which supports corporate culture in more than 60 countries in 5 continents, and with the opinions of the employees.

İslamoğlu has said "We have launched our employer brand "We for Energy" in 2021. Our learning and development platform, Aydem Academy, has been redesigned and activated in 2021. In the Academy, we have run different programs such as leadership development programs, personal development and compulsory trainings, and now we focus on continuous development by training our own internal trainers. We are working for the transformation of our company with our Equal Life initiative in the field of gender equality. We attach great importance to the inclusion of young talents in our companies. In this context, we have initiated our "S-energy Internship" and "Full Energy Young Talent" programs with all our companies.

Another important development for this year was the new working models we have accomplished. In this new system, which we have implemented by prioritizing efficiency, we have defined three working models: from the field/office, from home or hybrid. Thus, we aim to create a more efficient, competitive, digitalized new world order."

"Our activities grow and our investments continue."

Emphasizing that such a working system also brings along an increase in employment rates, Fatih İslamoğlu has stated that as of the end of November 2021, they will increase their number of employees from 11 thousand 554 to 12 thousand 545 and that Aydem Energy shall increase the number of permanent staff by 30% in 2022.